La Bodega
La Bodega, Pant Road, Dowlais, Merthyr Tydfil, Wales, UK. Telephone: 01685 384532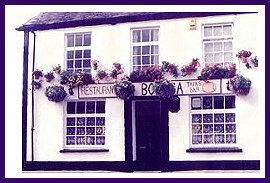 Welcome to
La Bodega - a touch of Spain in Dowlais.

We offer top quality food,
freshly prepared at a price you can afford.

PARTIES CATERED FOR:
BIRTHDAYS, ANNIVERSARIES
OFFICE GET TOGETHERS
WEDDINGS
We can cater for your group
Special Wedding Menus
Opening hours:
7.00pm to midnight Mondays - Saturdays
12.00pm - 3.00pm - Thursdays, Saturdays & Sundays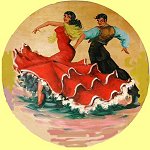 OUR MENU
If you have a favourite dish not on our menu,
just tell Emilio and he can prepare it for you,
but give him plenty of notice!
HORS D'OUVRES

TERRINE DE FOIE VOLLAINE:
Chef's medium coarse paté served with toast & a salad garnish

£2.95

COCKTAIL DE CREVETTES MARIES ROSE:
Norwegian prawns in a Marie Rose sauce flavoured with cognac

£2.95

SOUP DE JOUR:
Chef's homemade soup (Please ask for the day's choice)

£2.25

GAMBAS DE PLACHA:
King prawns cooked over charcoal with garlic butter

£4.95

GARLIC MUSHROOMS :
Mushrooms cooked in garlic & brandy sauce

£2.95

PLATO MARINERO:
Mouth-watering pieces of fish in a creamy wine & cheese sauce

£4.95

SARDINAS:
Sardines cooked over charcoal

£2.95

CALAMARES A LA ROMANA:

£2.95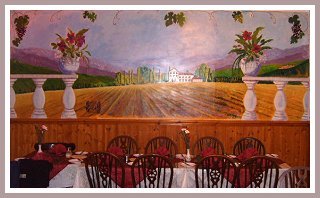 Dining Area showing one of our murals


PESCADO: FISH

FILLET OF SEMON SOLE BEATRIX:
Poached fillet of sole with prawns cooked in a rich white wine sauce

£6.50

SCAMPI PROVENCAL:
Pieces of jumbo scampi cooked in a white wine, tomato and cream sauce

£6.50

SALMON CUTLETS:
8oz (200g) cutlets grilled in butter and herbs

£6.50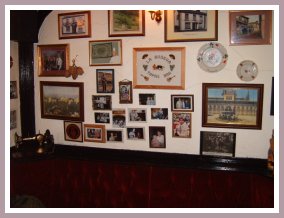 One of our bars
VEGETARIAN DISHES

MUSHROOM STROGONOF:
Mushrooms cooked in paprika, brandy & cream sauce with chopped tomatoes

£4.95

SPAGHETTI NEOPOLITAN:
Spaghetti, tomatoes, garlic & onions topped with cheese

£4.95

SAVOURY RICE:

£4.95

VEGETABLE LASAGNA:

£4.95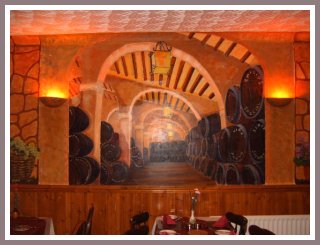 Part of our Restaurant showing one of our murals. We have an extensive wine list.
SPANISH DISHES

SELECTION OF TAPAS:
Please ask for details

Various Prices

GAZPACHO:
Chilled soup made with peppers, cucumber & tomato

£2.50

BACALAO EN SALSA VERDE:
Fresh cutlets of cod cooked in a sauce made from parsley , peppers & seafood with a hint of basil

£9.95

ZARZUELA DE PESCADO:
Mixed fish with a hint of tomato & shellfish, mussels in a basque sauce

£10.95

MERLUZA KOSKERA:
Hake cooked in a seafood sauce of peppers & garlic, complemented with prawns, mussels & wine

£10.95

BACALAO AL ARRIERO:
Cutlets of cod, cooked with layers of potatoes & herbs in a garlician style

£9.95

TRUCHA CON JAMON:
Poached trout served with a blend of ham, onions & a hint of garlic all flambeed with brandy

£6.95

LUBINA AL HORNO CON TXACOLI:
Baked sea bass basted with vino verde & complemented with onions, oregano & tarragon

£11.95

PAELLA VALENCIANA: (Minimum - two people)

£15.50

POLLO AL JEREZ:
Chicken in a garlic a sherry sauce

£6.50

RINONES SALTEADOS AL JEREZ:
Sauteed kidneys in a garlic a sherry sauce, served on a bed of rice

£5.50

CHULETA DE CORDERO CASTELLANA:
Lamb chops cooked in herbs, onions & layers of potatoes, baked in the oven

£7.50

POLLO RIOJANA:
Chicken cooked in tomato, thyme & a red wine sauce with a hint of garlic & chorizo

£6.50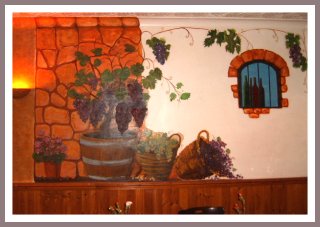 Another mural showing "A Taste of Spain"
ENTRÉES

FILLET OF BEEF SAUTÉ STROGONOFF:
Pieces of beef cooked in a paprika & brandy cream sauce

£10.50

STEAK DIANE:
Succulent steak cooked in a red wine sauce with mushrooms & onions, and brandy with double cream

£10.50

FILLET AU POIVRE:
8oz (200g) steak in a hot pepper sauce

£10.50

CHICKEN ROSSINI:
Chicken breast topped with pate, served on a crouton with a rich sauce of wine, onions & red peppers

£5.50

BREAST OF CHICKEN AL LA CRÊME:
Breast of chicken cooked with onions & mushrooms in a rich cointreau sauce

£5.50

CHICKEN CHASSEUR:
Chicken in a sauce of mushrooms, onions, tomato, wine & herbs

£6.50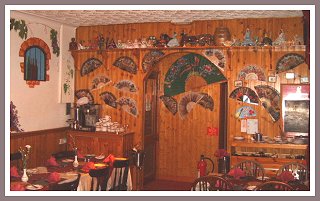 Our collection of Fans
GRILLS

SIRLOIN STEAK

£8.50

FILLET STEAK

£9.50

MIXED GRILL

£10.50

T - BONE STEAK

£11.50

All complemented with onions, mushrooms, side salad & french fries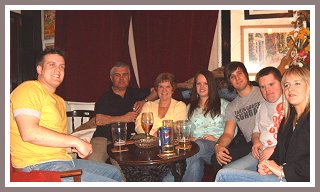 Some customers enjoying themselves in the bar before their meal.
TRADITIONAL MEALS

GAMMON, EGG & CHIPS

£5.50

LASAGNA VERDE, CHIPS & SALAD

£4.95

GRILLED FILLET OF PLAICE

£4.95

SCAMPI, LEMON & CHIPS

£4.75

SAUSAGE & EGG

£3.95

HALF ROAST CHICKEN

£4.75

CHICKEN CURRY, RICE & CHIPS

£4.95

CHICKEN TIKKA, RICE & CHIPS

£4.95

CHICKEN PROVENCAL

£4.95

STEAK & CHIPS

£5.50

POLLO ESPAÑOL

£5.50

POLLO AL JAMON

£5.50

SELECTION OF SALADS

£4.50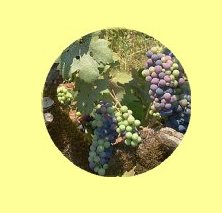 Well behaved children are very welcome in the Restaurant
CHILDRENS' MENU

DISHES ARE AVAILABLE WITH A SWEET

£2.25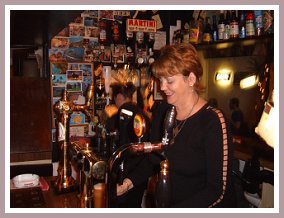 Maureen serving at the Bar
Our lunchtime menu changes according to season.
LUNCHTIMES

THURSDAY & SATURDAY LUNCH 12:00 - 2:00pm

SUNDAY LUNCH 12:00 - 2:00pm
Three courses

£6.95
Why not give us a ring and book a table?
You can enjoy a drink with your friends in one of our bars, before your meal.
La Bodega, Pant Road, Dowlais, Merthyr Tydfil, Wales, UK. Telephone: 01685 384532
Back to Mike Back to Main Index Back to Dowlais Male Choir
Website designed by Joyce Edwards